The Arena
The Livestock Arena at the Hopkins County Civic Center is the perfect place to hold your next large event. We provide everything you need to set up a rodeo, cattle and horse show, livestock sale, and so much more. From tie-stalls to bucking chutes, and from portable pens to announcer booths, we have the equipment to make your event a success.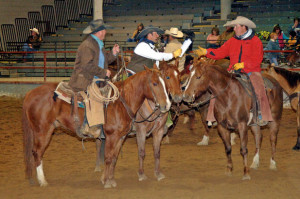 Make your guests, livestock, and yourself comfortable in here. This 27-foot tall indoor arena is climate controlled with heating and ventilation, so you can use it in any weather. The interior, dirt area, of our arena measures 195′ x 91′. We also provide shower accommodations for our valued exhibitors. Seat up to 3,500 attendees in the arena's large bleacher-style benches. You and your guests will also have access to sparkling restrooms and a concessions.
Arena Details:
State-of-the-art Sound System
LED Lighting (Instant on/off)
Bleacher seating for 3,500
Six Priefert Bucking Chutes
4 Separate Restroom Facilities
Separate Men's & Women's Changing Area
Stock Pens & Covered Horse stalls adjacent
Floor Carpeting Available
Additional Seating for 1,500 chairs on the floor
If you have any questions about the arena, please feel free to contact us. We look forward to making your event a huge success.
Interested in booking your event here? Just need more information? Either way, just fill out this form and our Director of Event Services will follow up with you!